Audio Loudness Meter Extended 5.1
Audio Loudness and True Peak Meter application, with extended features
BS1770 and EBU R128 compliant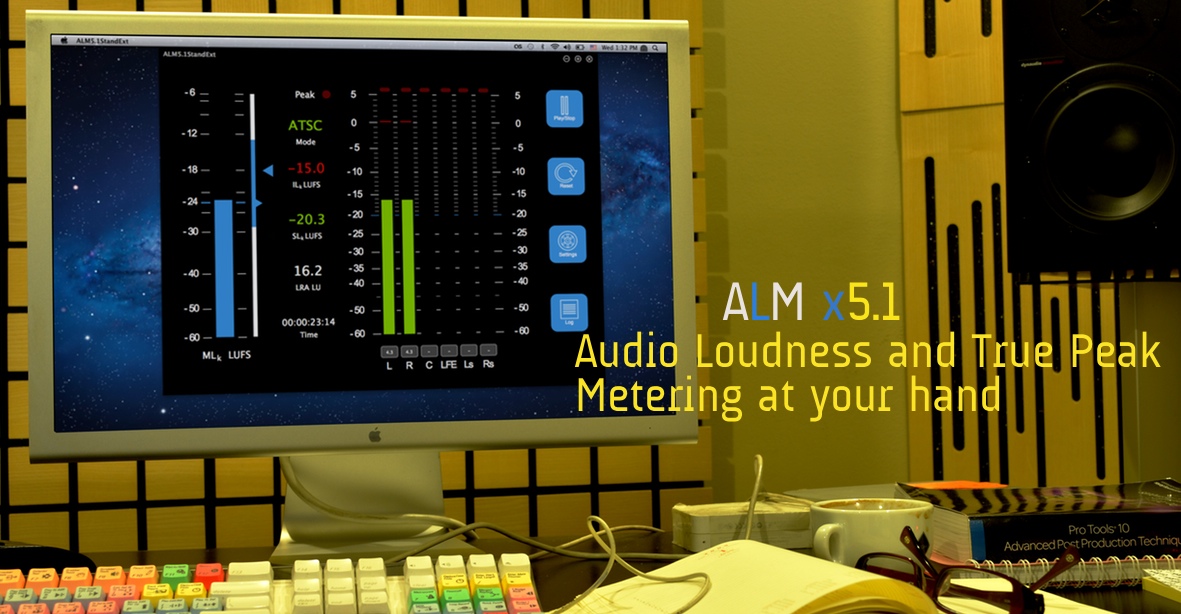 Taking the idea behind the ALM 5.1 plugin a step further, we developed a standalone application, with extended features, that offers more control and power, allowing you to use it in more complex situations: the ALMx 5.1 (stands for Audio Loudness and True Peak Meter with extended features).
The application was created as an aid for the television networks and media services providers. Recommendations regarding loudness levels exists in many countries, some of them have already implemented the standards as law, while others are in the legislative process. Just like the ALM 5.1 plugin, the driving forces behind the application are the algorithms developed according to the international broadcast standards (BS-1770, EBU R128, ATSC A/85), based on research and perception tests. With the help of the log feature, you can pinpoint the time and the duration of the loudness disturbance.
ALMx 5.1 offers you full Loudness and True Peak Metering for Mono, Stereo and 5.1 channel formats featuring measurements for Momentary, Short Term and Integrated Loudness, with Loudness Range and Max True Peak Level. Additionally, the application offers you a general or a more detailed overview of your measured material, any time you want. The information is saved in a .xml file.
---
Features
Standalone Loudness and True Peak Metering for Windows and Mac
Channel Formats: mono, stereo and 5.1
Full compliance with Loudness standards : BS-1770 (rev.3), EBU R128 and ATSC A/85 specifications
Complete loudness measurements using universal descriptors: Integrated Loudness (ILk), Momentary Loudness(MLk), Short Time Loudness(SLk), Loudness Range(LRA)
Real-time metering for Momentary Loudness, Short Term Loudness and Loudness Range;
True Peak Level Metering with peak hold
Max True Peak Level (calculated using inter-sample peaks that can be missed in quantization)
Accurate measurements for all the usual sample rates: 44.1 kHz, 48 kHz and multiples
Low CPU usage due application optimization
Logging files in XML format
Variable colors for loudness descriptors, according to the comfort zone from "Intelligent Program Loudness Measurement and Control: What Satisfies Listeners?", written by RIEDMILLER, J.C., LYMAN, S. and
ROBINSON, C in 2003.
Variable threshold for True peak
Variable threshold for Short Term Loudness
iPad application available for remote monitoring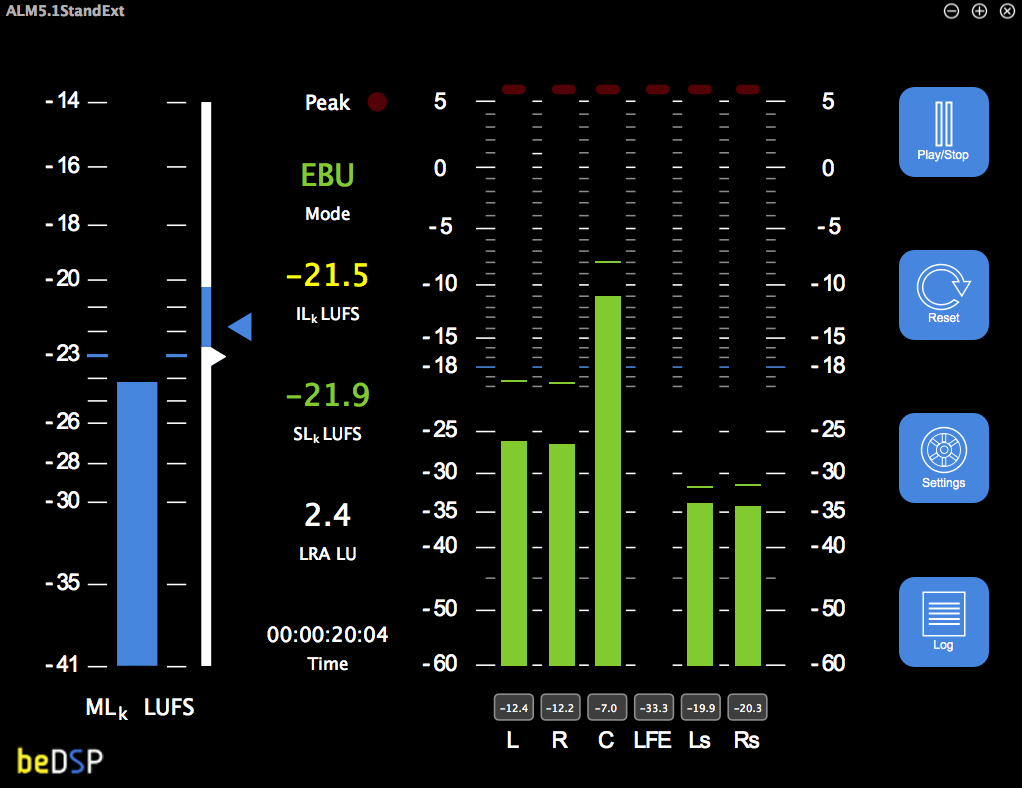 ---
Minimum System Requirements
MAC:
Dual Core CPU (Intel or AMD) with SSE2 support
2GB RAM
OSX10.6
PC:
Dual Core CPU (Intel or AMD)  with SSE2 support
2GB RAM
Windows 7
---
Loudness Descriptors
Integrated Loudness (Program Loudness) – describes the long-term integrated loudness of an audio material from 'start' to 'stop'
Momentary Loudness – calculated with a time window of 400 ms
Short Term Loudness – calculated with a time window of 3 s
Loudness Range – loudness dynamic range from 'start' to 'stop' that helps you decide if dynamic compression is necessary
Max True Peak Level – indicates the maximum value of the signal waveform in the continuous time domain (this value is calculated using inter-sample peaks that can be missed in quantization)
---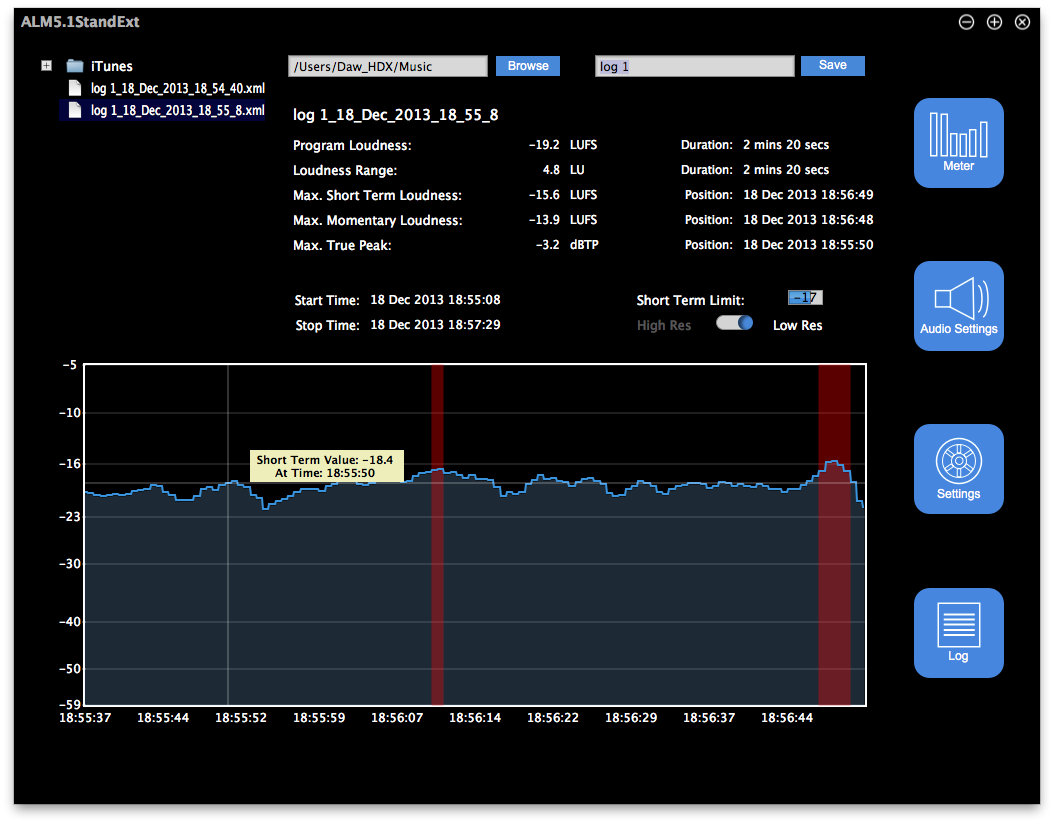 Logging
An important feature of the ALMX 5.1 is the log option, which allows you to view the loudness graph at all times.
Duration for Program Loudness and Loudness Range
Position for Maximum. Short Term Loudness
Start and stop time for the material
On the graph, you can view the short term value and the timestamp
File saved in .xml format
The logs are updated in real time
Option for high/low resolution
Variable short term limit
Zoom in/out option for the graph
---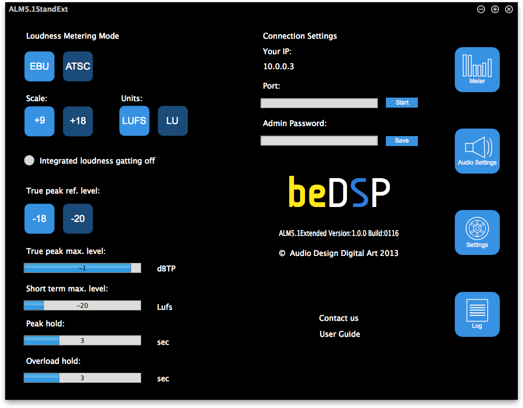 Settings
The settings view is bigger and better than ever. From choosing the thresholds to setting the password for the remote control, you can tweak the controls to your liking, allowing you to work with the optimal setting, covering your every need regarding loudness monitoring..
EBU/ATSC loudness standards
Variable scale and units, +9, +18 and either Lu or Lufs are used
Two True Peak reference level: -18 dBTP and -20 dBTP, for higher or lower resolution
True peak maximum level and Short Term maximum level thresholds
Peak and overload hold
Connection settings for remote view, including ip, port and password for admin control

---

Audio Routing

The flexible and intuitive audio routing interface makes it easy for you to configure the input and outputs according to your needs.

Variable sample rate
Variable audio buffer size
Every possible channel routing combination available